---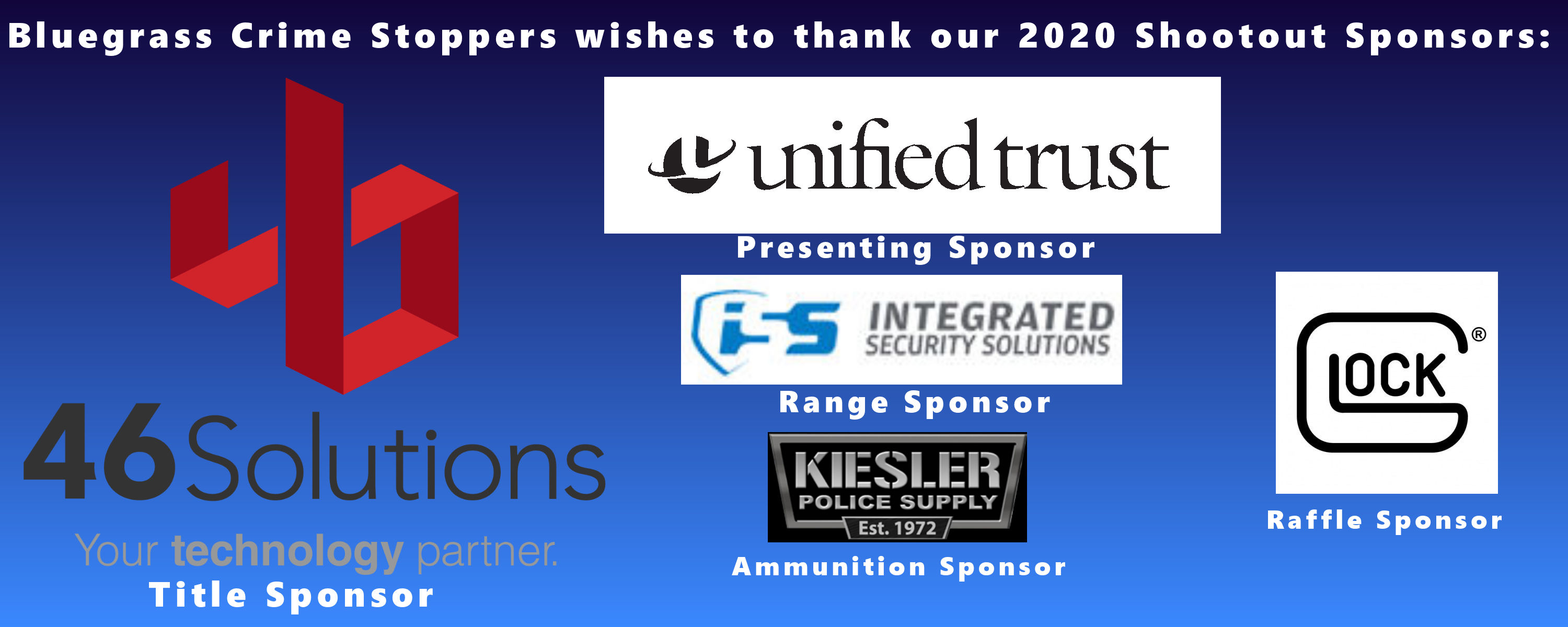 Sponsored by:
Title Sponsor: 46 Solutions Presenting Sponsor: Unified Trust Company Range Sponsor: Integrated Security Solutions
Ammunition Sponsor: Kiesler Police Supply Raffle Sponsor: Glock Target Sponsor: Gun Fun Shooting Targets
Information:
The 2020 Shootout is scheduled for Saturday, August 22 at the Lexington Police Department Firing Range, located at the corner of Parkers Mill and Airport Road, in Lexington, KY. Gates open at 8 AM, shooting begins at 8:30 and runs until approximately 2 PM.
Covid-19 Information

: 2020 is an unusual year, obviously, with the Covid-19 pandemic. The motto of the Shootout has always been "Safety First," and this year will not be an exception. We will be following all government guidelines and best practices to ensure the safety of our guests, volunteers, and the police officers who help us produce this event. As such, there will be a temperature check station all attendees must pass through to enter the facility. Additionally, masks must be worn while inside the gates of the facility (except while eating or drinking). We recognize that some folks don't like to wear a mask, but with an event of this nature, we must insist that everybody within the gates wear a mask. We will have masks available for those who need one. There will also be hand sanitizer available, which we encourage participants to use. Finally, we will be employing a variety of methods to help keep distance between guests and volunteers. We thank you for your patience and understanding--hopefully in future years, these measures will not be necessary.
What is the Shootout? Bluegrass Crime Stoppers began the Shootout 16 years ago as a fundraiser for our programs. It is a shooting contest, open to civilians and law enforcement, structured to allow shooters of all skill levels to compete for trophies. In 2020, we have a raffle, sponsored by Glock, where two lucky winners will receive a gift certificate for a free Glock 17 or Glock 19 from an authorized Glock dealer (must be 21 and pass the background check). There will be a Silent Auction with fantastic items from various businesses. Drinks and breakfast are included, and lunch is available for a donation. All are welcome to attend, but shooters must be over 21.
Events:
Individual Shoot: $40 (use of pistol, ammunition and target supplied)
Team Shoot: $120 (cost covers three team shooters; use of pistols, ammunition and targets supplied)
(a person may shoot
one
Individual Shoot and
one
Team Shoot, maximum)
Teams and Individuals may shoot at any time during the event.
Online pre-registration now open (see below). There are a limited number of slots available--reserve as soon as possible to save your space.
Perks:
Free drinks/water (courtesy of Pepsi and Coca-Cola)
Free Snacks (courtesy of Frito Lay)
Free Coffee (courtesy of Starbucks)
Free Breakfast (Courtesy of Chick Fil A and Krispey Kreme)
Lunch available (donation requested), provided by Bimbo Bakeries
Silent Auction (featuring great items from Buds Gun Shop, Jif Peanut Butter, Galls, Home Depot and others--thanks to our silent auction donors!)
Raffle (sponsored by Glock): Two lucky raffle tickets will be drawn. Each winning ticket holder will receive a certificate for a free Glock pistol, redeemable at a Glock authorized dealer. Must be 21+ and pass required background check. Tickets are $10 each, or six for $50. Drawing held at the conclusion of the Shootout on August 22. Winner need not be present. Tickets may be purchased at the event or from a Bluegrass Crime Stoppers Board member. All proceeds benefit Bluegrass Crime Stoppers.
Bluegrass Crime Stoppers is a 501 (c) 3 nonprofit operated by an all-volunteer board of directors, partnered with the Lexington Police Department, commissioned by LFUCG. We receive no taxpayer funds, and depend on fundraising, donations and grants to fund our mission. See BluegrassCrimeStoppers.com for more details about our program and the benefits provided to Fayette county and the seven surrounding counties in Central Kentucky.
The details:
SAFETY FIRST
Must be 21 or over to shoot
Must show driver's license or government ID
Must sign a liability waiver and a Covid-19 waiver
Temperature Check and Mask required for all guests on site (whether shooting or not)
No open-toe shoes allowed (new in 2020--hot brass doesn't go well with toes)

No personal weapons or ammunition allowed

Use of a Glock Pistol, ammunition, and target will be supplied
Participants must attend safety briefing prior to entering the range
Shooters must follow and respond to all commands from the range officers
First-time or novice shooters should let the range officers know--they will be happy to assist you
Event will be held rain or shine
Team and Individual Shoot are available:

Individual Shoot ($40): all individuals compete with each other. Final scores are broken into quartiles: top 25% compete for Master level trophies; next 25% compete for Expert level trophies; Next 25% compete for Sharpshooter; Next 25% compete for Marksman. This allows all skill levels the opportunity to win a trophy.
Team Shoot ($120 for a three person team): teams of three compete against other teams. Highest combined score wins.
Trophies awarded for 1st, 2nd and 3rd place in each individual category; 1st, 2nd and 3rd trophies for teams (each member of the winning teams receives a trophy); 1st, 2nd and 3rd trophies also awarded to the following categories: Highest Scoring Woman, Highest Scoring Senior Citizen (65+), Highest Scoring Law Enforcement
Participants may shoot a maximum of one Individual Shoot and one Team Shoot. Any person exceeding this limit will have all scores disqualified.

Sorry, no re-shoots available this year
Technical details: we're using Glock 17 Gen 4; 9mm FMJ 115 gr; B-27 type silhouette targets. 25 rounds at three stages: 7 yards (5 rounds), 15 yards (10 rounds), 25 yards (10 rounds). Maximum score of 250, Xs are tallied for tiebreaker purposes. Scores tallied by range officers, scoresheet delivered to score keeper--once the scoresheet is delivered to the score keeper, no changes to the score may be made. Match director has final say over any disputes.
Contact John Kirkland, Match Director, with any questions:

Online Registration